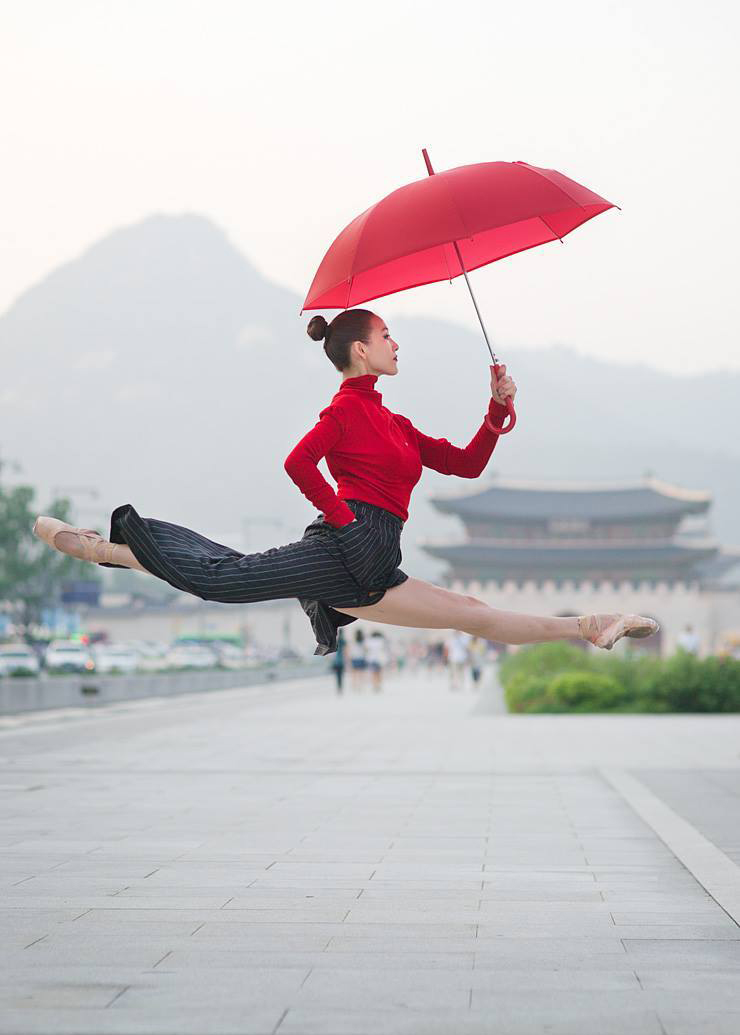 Upcoming Exhibition in Seoul, South Korea
SOLO EXHIBITION:
I'm thrilled to announce that I will be returning to Korea in July for another solo show at the Savina Museum of Contemporary Art, featuring sixty-five brand new dance and circus photographs. Even more excitingly, the exhibit is sponsored by the US Embassy! My fans in Korea are amazing and I'm so excited to see them again! You can read all about last year's adventures in this blog: My Rockstar Adventures in Korea

I will have a packed schedule of events, so please follow me on Facebook for the details:

www.facebook.com/JordanMatterPhotography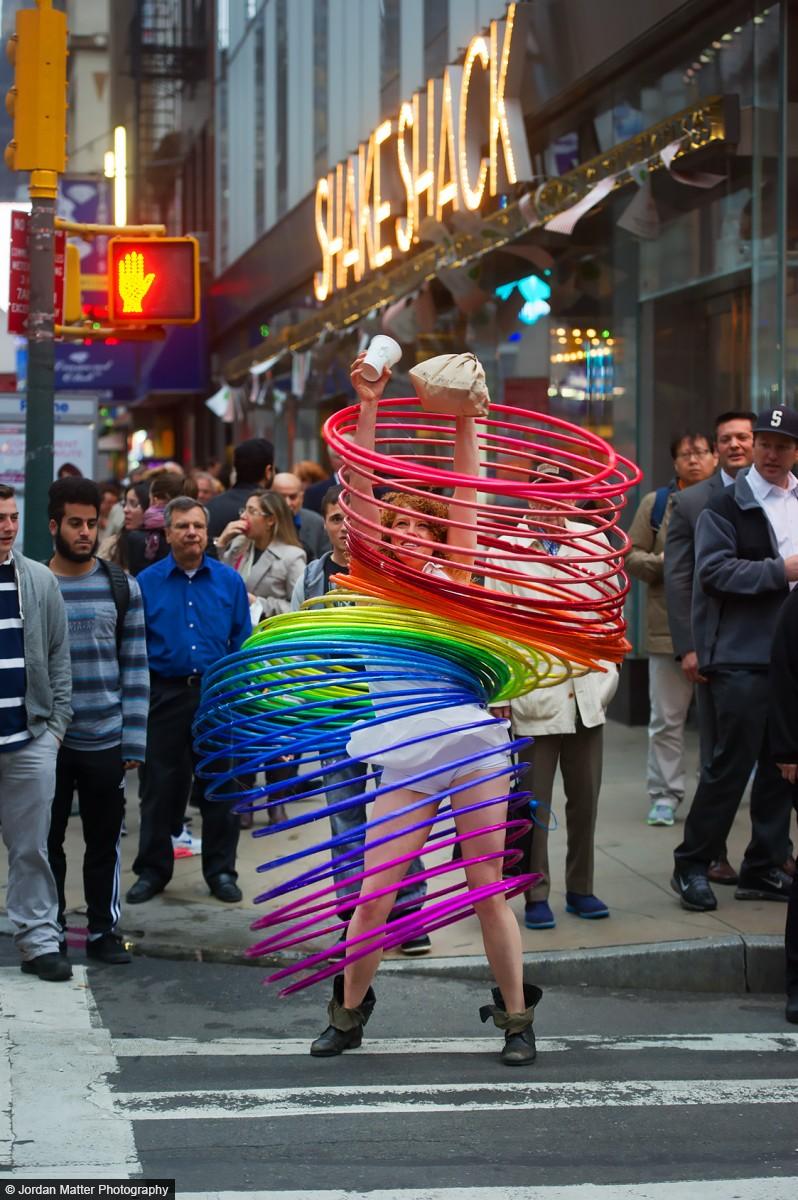 Jordan's hula-hoop shoot with Ellie Steingraeber was prominently featured in the Style Section of the NY Times in Bill Cunningham's "On the Street" column.
See the full article  here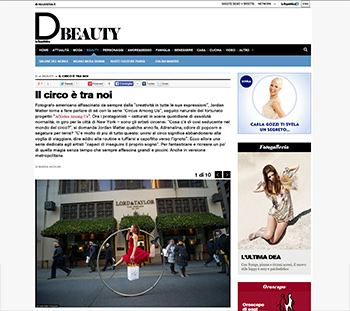 ...the protagonists - caught in the everyday scenes of absolute normality, around the city of New York - are circus performers. "What is so seductive in the world of the circus?", Asks Jordan Matter a few years ago. Adrenaline, the smell of popcorn and sawdust on the floor? "There is much more to all this: join the circus means to surrender to the urge to travel, say goodbye to the routine and dive headlong into the unknown." Here then is a series dedicated to artists "who can pursue their dream."

See the full article  here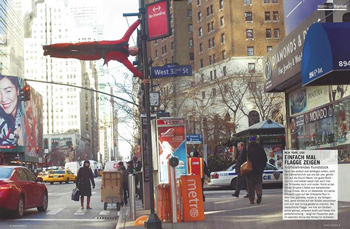 See the full image here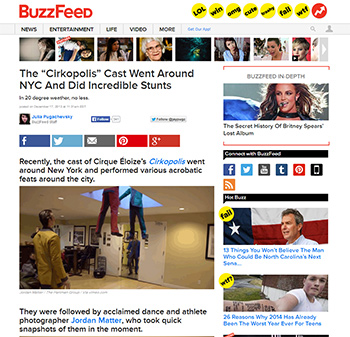 Circus Among Us featured on Buzzfeed.
Recently, the cast of Cirque Eloize's Cirkopolis went around New York and performed various acrobatic feats around the city.

They were followed by acclaimed dance and athlete photographer Jordan Matter.
See the full article on buzzfeed.com
High Praise for NY Times Bestseller, Dancers Among Us: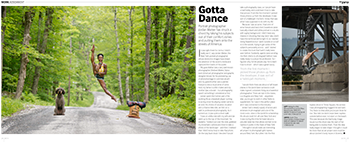 Jordan Matter & Nikon Pro
"Portrait photographer Jordan Matter has struck a chord by taking his subjects out of their comfort zones and putting them onto the streets of America."
Read more.
Barnes & Noble Best Books 2012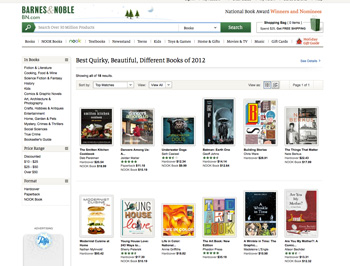 "The mystery of the body in motion. The surprise of seeing what seems impossible. And the pure, joyful optimism of it all. Dancers Among Us presents one thrilling photograph after another of dancers leaping, spinning, lifting, kicking - but in the midst of daily life: on the beach, at a construction site, in a library, a restaurant, a park. With each image the reader feels buoyed up, eager to see the next bit of magic."
Read the full description: http://www.barnesandnoble.com
See Jordan on the Today Show
See Dancers Among Us on ABC World News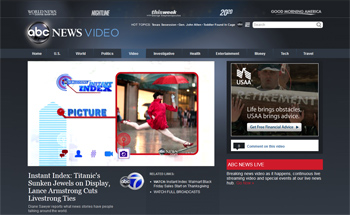 "Some breathtaking photos to free your imagination; ordinary moments celebrated in extraordinary ways like catching a subway, shoveling snow, hitting the surf; all part of Dancers Among Us, professionals reminding the rest of us - to be alive is to have a chance to dance." Diane Sawyer

Watch the video on: abcnews.go.com
The Insider features Dancers Among Us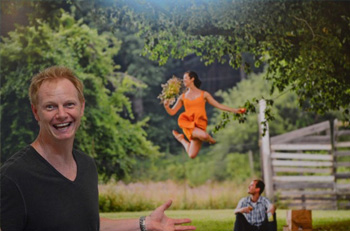 Dancers Among Us in Korea.
Matter's lively, witty photos were published in a book, "Dancers Among Us," in 2012, which became an instant hit on Amazon.com and made it onto the New York Times' best-seller list.
The photographs are currently on exhibit at Savina Museum of Contemporary Art in Anguk-dong, Seoul until Sept. 22.
View more on koreaherald.com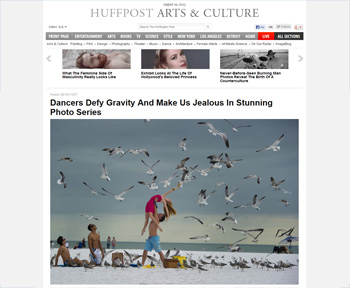 Dancers Among Us featured on Huffington Post
Dancers Defy Gravity And Make Us Jealous In Stunning Photo Series:
Dancers: they're just like us. Except instead of walking places, they have the option of gracefully pirouetting from one place to another, thus making their lives look way more beautiful than yours.
View more on www.huffingtonpost.com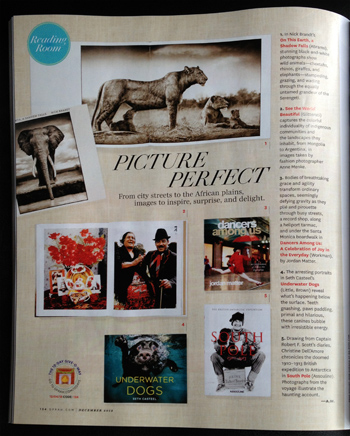 O Magazine Holiday Favorites
"Bodies of breathtaking grace and agility transform ordinary spaces, seemingly defying gravity as they plié and pirouette through busy streets, a record shop, along a heliport tarmac, and under the Santa Monica boardwalk in Dancers Among Us: A Celebration of Joy in the Everyday (Workman), by Jordan Matter."
View the full review: PDF
Daily Mail Online (UK)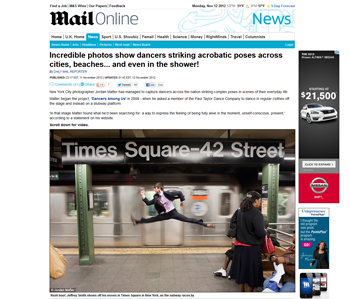 "New York City photographer Jordan Matter has managed to capture dancers across the nation striking complex poses in scenes of their everyday life.

Matter began the project, 'Dancers Among Us' in 2009 - when he asked a member of the Paul Taylor Dance Company to dance in regular clothes off the stage and instead on a stubway platform....."
View the full article on dailymail.co.uk